(All News Posted by: Don Craig)
*******************************************************************************
Gibson City, IL – January 10, 2018:
Veteran Dirt Late Model Racer Kevin Weaver, will be having a Racing Party/Cash Bash fund raiser to be held on Saturday night, March 17th at the Kruse Center in Gibson City. The event venue is located on the east side of town, at 207 North Lawrence Street (Rt. 54). The party will run from 5 PM to 11 PM.
The fund raiser will feature tickets sold for a Cash Bash with the top prize of $2,000 to the winner, $1,000 for second, and $500 for third... with many other monetary prizes drawn throughout the ticket number elimination process. In addition, each ticket sold includes a furnished meal and drinks during the drawings (1 ticket covers two people), and there will also be an auction of racing and/or other items, raffles, and fifty-fifty drawings. A local D.J. service will also be on hand for music throughout the night.
YOU DO NOT HAVE TO BE PRESENT TO WIN! BUT, AS TICKETS ARE EXPECTED TO SELL FAST, PLEASE GET YOURS AS SOON AS POSSIBLE !!!
For those interested in purchasing tickets to take part in the Cash Bash and the fun, please contact Kevin's daughter and event coordinator, Paige Weaver at: 217-781-0537, or Kevin at: 217-781-8396. Or to purchase tickets using a PayPal account, please use Kevin's direct email address at:
KWeaverB12@sbcglobal.net
NOTE: FOR THOSE UNFAMILIAR WITH IT, A "CASH BASH" PARTY, IS A WAY TO GIVE CHARITABLE 'DONATION' TO ANY ENTITY THAT IS LOOKING TO RAISE FUNDS FOR THEIR OPERATIONS, WHILE STILL GIVING THE DONATORS/PARTICIPANTS THE OPPORTUNITY TO WIN PRIZES THEMSELVES THROUGHOUT THE DRAWING PROCESS, AS WELL AS RECEIVING FREE DINNER AND DRINKS FOR TWO DURING THAT TIME. MUSIC, OTHER DRAWINGS, ETC., AND SOCIAL PARTY ATMOSPHERE FILL IN BETWEEN EACH DRAWING 'SEGMENT'.
THIS PARTICULAR CASH BASH WILL INCORPORATE A RACING THEME IN THE PROCESS OF MOVING ON TO THE GRAND PRIZE OR ELIMINATION, AS WELL AS ADDING IN SOME SMALLER MONETARY OR PRIZE WINNERS. HEAT RACE FORMATS WILL BE USED WITH GROUPS OF NUMBERS RANDOMLY DRAWN, TO DETERMINE WHO WILL MOVE ON.
THE NUMBERS (AND TICKET HOLDER NAMES) ARE POSTED ON A LARGE WALL BOARD. TICKETS THAT ARE DRAWN OUT RANDOMLY FOR ELIMINATION THROUGH THE HEAT RACE PROCESS. AND, AS THE EVENING GOES ON, THOSE NUMBERS ARE MARKED OFF, AND THOSE WINNING THEIR "HEAT", AND/OR ANY CASH OR OTHER PRIZES ARE HIGHLIGHTED.
ALTHOUGH THE OVERALL PARTY IS NOT... THE ACTUAL CASH BASH DRAWING IS LIMITED TO 200 PARTICIPANTS (TICKETS SOLD), AND THUS GIVES EACH HOLDER OF A TICKET, A ONE IN TWO HUNDRED CHANCE OF WINNING THE GRAND PRIZE OF $2,000. THE SECOND TO LAST TICKET NUMBER DRAWN OUT, WILL WIN $1,000, AND $500 WILL GO TO THE THIRD FROM LAST NUMBER PICKED.
HOWEVER, AGAIN, AS NUMBERED BALLS ARE RANDOMLY PICKED THOUGHOUT THE NIGHT FOR OMMISSION, SOME OF THOSE NUMBERS WILL BE SMALLER DOLLAR OR PRIZE WINNING NUMBERS AS WELL!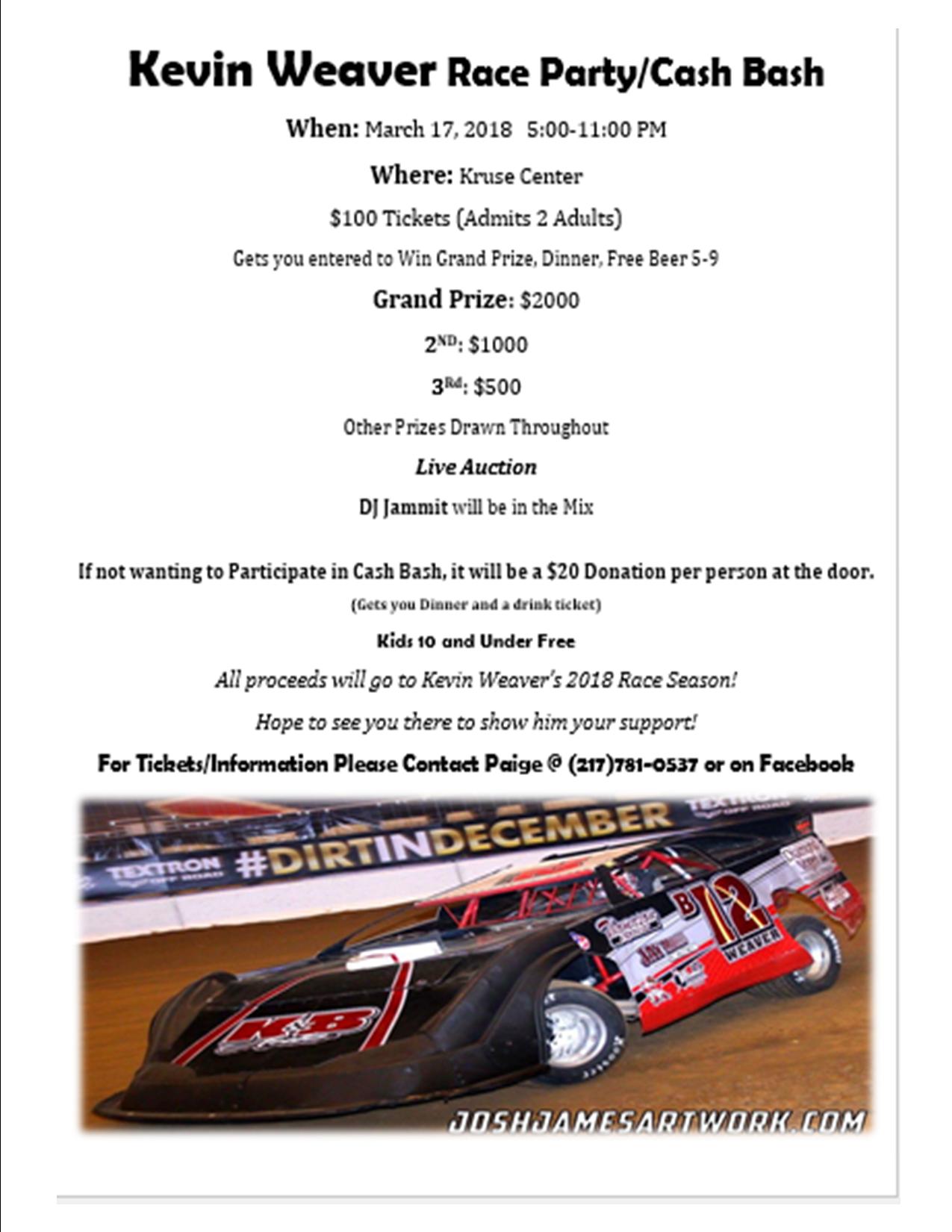 *********************************************************************************
Kevin's present plans are to go on with the upcoming season, but did want to add that he would be open to any new potential major and associate sponsors looking to support him this year, and possibly into the future. In regard to sponsorship, Kevin can be contacted directly at 217-781-8396, or through his website email address at: RaceB12@kevinweaver.com

Don Craig
Weaver Racing Enterprises
************************************************************************
*********************************************************